Study: Job Satisfaction By US State
A job can be a means to an end and a way to pay the bills, or it can be something we're passionate about and thoroughly enjoy. The reality is that how we feel about our jobs is unique to each person, and can be influenced by factors like sector, pay, and working hours.
In this study, we asked participants to rate their job satisfaction from 0 to 5. From this, we were able to determine a national job satisfaction score and use this as a benchmark for the state analysis. We will provide more information on our methodology at the bottom of this article, but for now, keep reading to see the results.
The National Numbers
The average job satisfaction score across all study participants was 3.3 out of 5 – within the 'my job is OK' range. Unfortunately, there are several states that fell below this benchmark, with residents reporting lower-than-average job satisfaction levels.
(click the below image for a bigger version)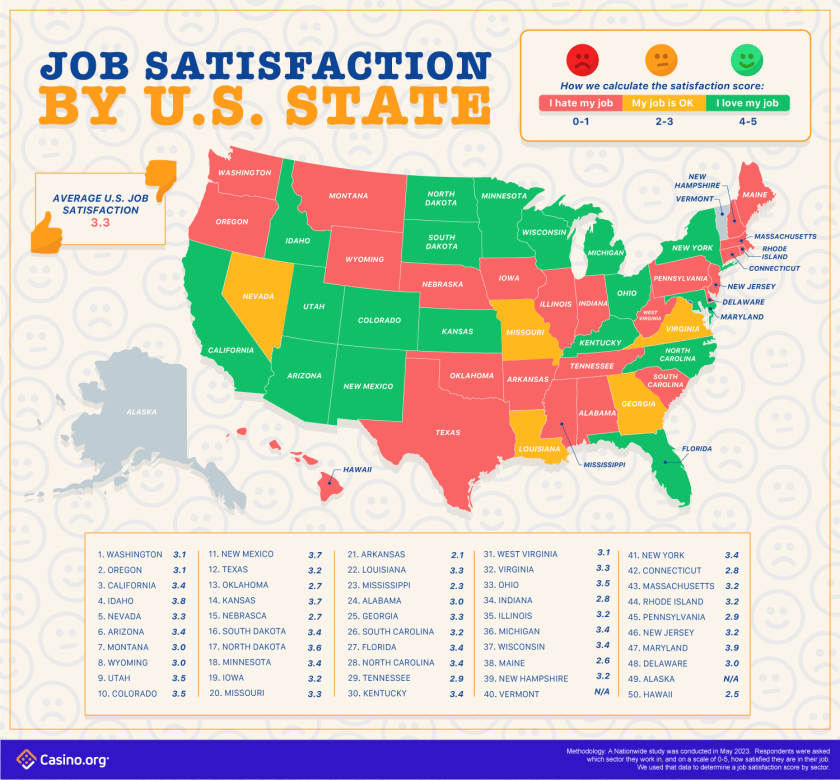 Arkansas (2.1), Mississippi (2.3), Hawaii (2.5), Maine (2.6), Oklahoma (2.7), Nebraska (2.7), Indiana (2.8), and Pennsylvania (2.9) are among the states with the lowest levels of job satisfaction, falling below the national average. Nevada, Missouri, Louisiana, Georgia, and Virginia residents all averaged 3.3, the exact same as the national score.
On a more positive note, there are many states that have a job satisfaction score above the national average. Maryland (3.9), Idaho (3.8), New Mexico (3.7), North Dakota (3.6), Utah (3.5), and Ohio (3.5) are some of the highest scorers. Other honorable mentions include California (3.4), Florida (3.4), New York (3.4), and Michigan (3.4).
Satisfaction Score by Sector
Real estate workers are the most satisfied in the country, scoring 3.9 out of 5 on average, followed by construction workers at 3.6. The only other sectors scoring above the average are healthcare and hospitality.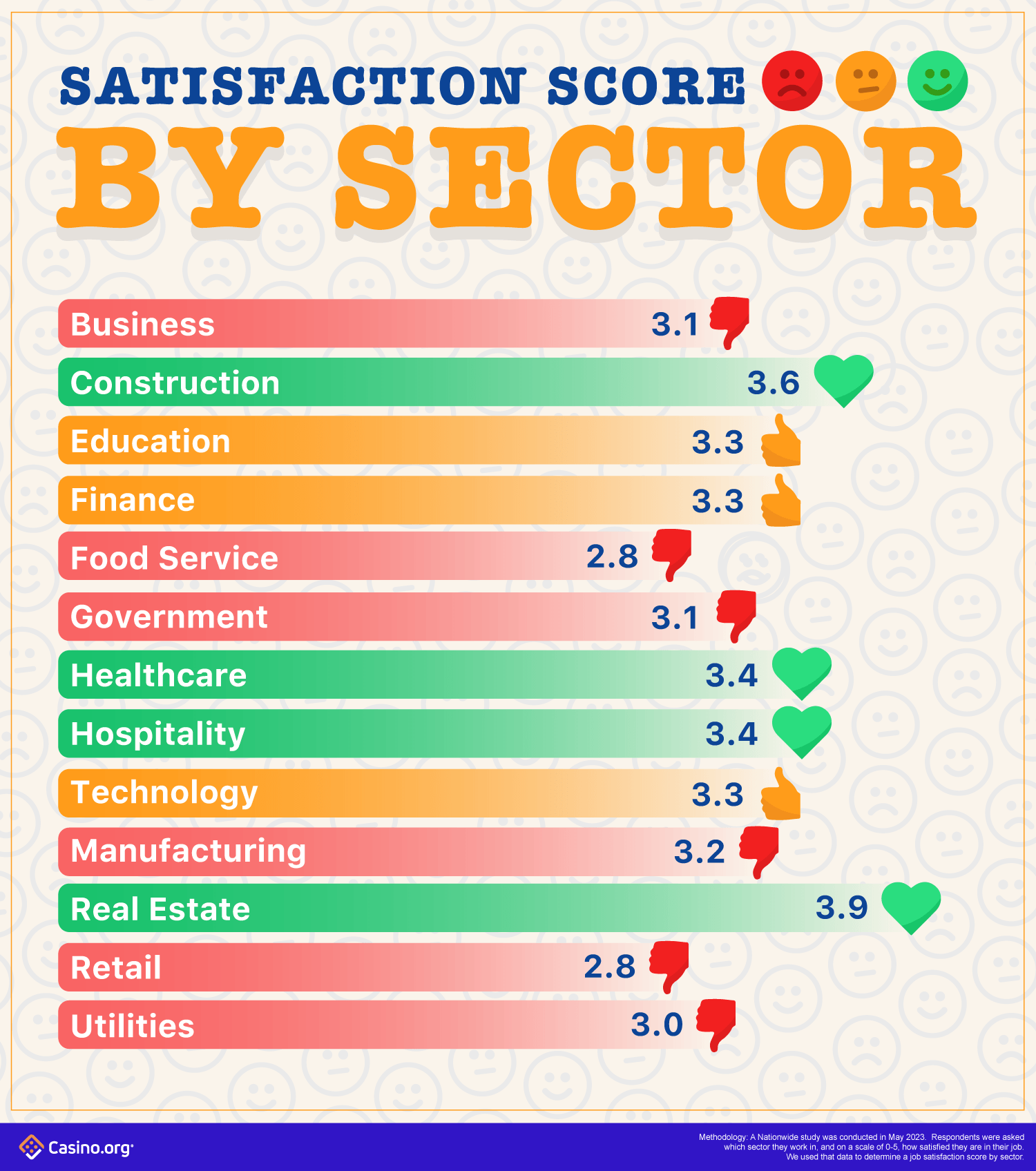 The lowest scores came from those working in food service (2.8) and retail (2.8). Other low scorers include utilities (3.0), Government (3.1), business (3.1), and manufacturing (3.2).
Job Satisfaction by Age/Generation
Gen Z (1997-2012) are the least satisfied in their jobs, reporting an average score of 3.1. This is closely followed by millennials (1981-1996) who scored 3.2. Baby Boomers (1946-1964) have a job satisfaction score of 3.3, which is exactly in line with the national average. The only generation surveyed that reported above-average job satisfaction was Generation X (1965-1980) with a score of 3.4.
Methodology
In May 2023, we conducted a nationwide survey through a data collection tool using a large representative sample. Respondents were aged between 18-65 and all reside within The United States. We asked the following questions:
Which state do you live in?
Which age bracket do you fall within?
Which sector do you work in?
Please rate your job satisfaction
We used the following scale for job satisfaction:
0-1: I hate my job
2-3: My job is OK
4-5: I love my job
We used the average score of ALL participants to determine the national score. We then segmented by state to determine the state-level numbers. We took the answers from 'which sector do you work in' to calculate the satisfaction score by sector.
Note: The color scale on the map is indicative of which states fall above or below the national average.
You are free to use any of the information in this report, including the supporting imagery. When doing so, please link back to this article as your source. For media inquiries, please contact michaela.shaw[at]casino.org.